Bing announced on Wednesday, April 4, 2018 that Bing price extensions are now available in Bing Ads. If you don't know already, Bing Ads is Bing's pay-per-click service that allows businesses to advertise on both the Bing and Yahoo! search engine results pages. Google has been featuring price extensions since July 2016 to the greater public, and in consistent fashion, this week Bing hopped on the price extension bandwagon.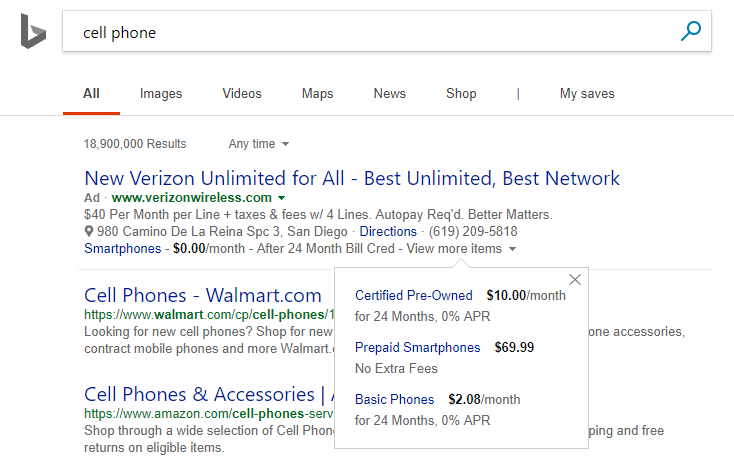 What are Bing price extensions?
Price extensions allow advertisers to feature products or services including prices as a component of their ad copy. These extensions include a clickable headline, a brief description and of course, a price.
How do Bing price extensions work?
Price extensions are similar to sitelink extensions in that when the user clicks the extensions they are taken away from the search engine result page to a new destination assigned to the extension they clicked. With price extensions, the new destination can be on the advertisers domain or a third-party retailer. Of course, when a price extension is clicked the advertiser is charged the same CPC as clicks on the ad headline (sorry, no freebies here!).
What are the requirements for Bing price extensions?
It is always at Bing's discretion as to when and which extensions (or none) they will display in their search engine result pages, however there are some requirements that need to be met in order for your price extensions to have a fighting chance at showing.
Price extensions descriptions must be unique and not a duplicate of the header.
The landing page must included the prices featured in the price extensions (no bait-and-switch tactics folks).
You must be running ads in any market except China, Hong Kong and Taiwan.
If you manage a business that sells products or services it's a no-brainer that you should be implementing price extensions on your ads. Price extensions can significantly increase your click-through-rate (CTR) because you are providing users exactly what they are looking for, which in turn can lead to more conversions and lower cost-per-click (CPC) due to better ad rank. After all, marketers like us love making a sale and getting a good deal. If you need help managing your paid media campaigns, SEO or want a free website built, the pros here at Avada Media can help!